Diandra Leslie-Pelecky
Diandra Leslie-Pelecky works at the intersection between science and story, using her background as a leading nanomaterials researcher and master science communicator to bring science to audiences that aren't always looking for it.
Her writing includes non-fiction ranging from technical and popular articles about nanotechnology to the science of fast cars and non-fiction: plays and screenplays that open the hidden world of the scientist, her laboratory and the wonders of discovery to everyone. Her work has appeared in a wide range of places, including scientific journals, magazines and books, TIME and Sporting News magazines, ESPN and VOOM HD television, SiriusXM NASCAR radio, and the New York Times Science Times section. She runs the popular motorsports blog Building Speed
By painting vivid pictures and relating fundamental scientific principles to everyday life, she makes science not only fun and fascinating, but also emminently understandable.
---
Yes, I know it's a picture of nanoparticles. But a picture of a script just isn't all that interesting, is it?
Plays Available
Screenplays Available
Television
In addition to writing research papers and books, I like to show how science surrounds virtually everything.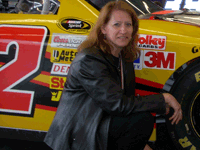 ---
---